Employment Resources
---
Workplace injuries
Workers compensation law in British Columbia is set by the Workers Compensation Act (Act) and its related regulations. WorkSafeBC administers the Act for the Minister of Labour.
If you have suffered a workplace injury or disease, and are able to, you should first report it to your employer. If you work in a unionized workplace, often there are people that can assist you with understanding the process.
Below are some links to the organizations and agencies that adjudicate WorkSafeBC claims, or provide advice to help make sense of the system.
---
WorkSafeBC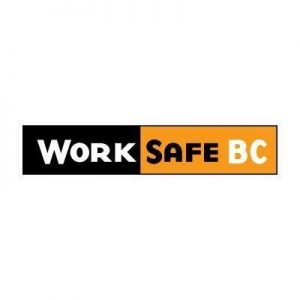 – WorkSafeBC is where a worker goes to report an workplace injury or disease, report an unsafe workplace, or review a decision regarding a WorkSafeBC claim. The Review Division at WorkSafeBC oversees the first level of appeal of a decision. There are time limits that apply for appealing decisions, should they need to be appealed. Most claims are started via Teleclaim by calling 1.888.967.5377.
A claim with WorkSafeBC is made up of reports from the doctor, the employer and the worker.
---
Workers' Compensation Appeal Tribunal (WCAT) – The Workers' Compensation Appeal Tribunal (WCAT) is an independent organization that workers or employers can go to if they want to appeal a Review  Division decision from WorkSafeBC. It is the final level of appeal for workplace compensation matters. Not all of the decisions can be appealed, and there are strict timelines to appeal those that can.
---
Workers' Advisers Office  – Operating independently of WorkSafeBC, the Workers' Advisers Office (WAO) provides free advice and assistance to workers and their dependants on disagreements they may have with WorkSafeBC decisions. On their website, there are factsheets explaining the processes, and frequently asked questions are answered. The WAO can help explain the Workers Compensation Act and WorkSafeBC's policies and procedures. They can also help obtain information regarding a claim, and help with the filing of an appeal. In some cases, they can also represent a worker in their appeal.
The WAO's services are free to workers. It is an office that is separate and independent from WorkSafeBC, and is a branch of the Ministry of Labour.
---
Employment standards and laws
Employment Standards Branch  – The law in B.C. sets standards for payment, compensation and working conditions in most workplaces. The standards promote open communication, fair treatment and work-life balance for employees. Here you can find out information regarding what the minimum wage is, what are the statutory holidays in the province,  and what are the laws around hours of work.
Most BC workers are covered by the Employment Standards Act, but not all. For one, you have to be an employee of a company, not an owner or a contractor. Certain work such as babysitting do not fall under the Act, as well as federally regulated workplaces such as banks and airlines.
---
Essentials of Work & the Law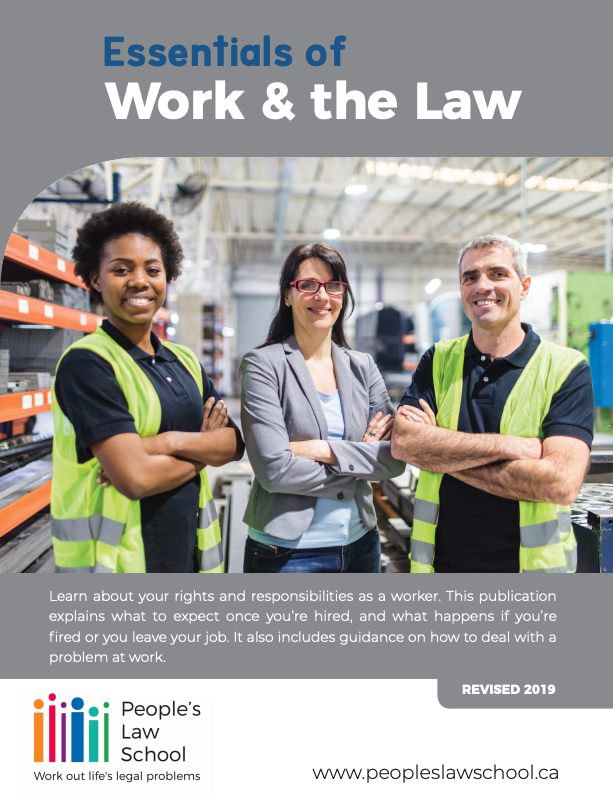 – Essentials of Work & the Law offers information about your rights and responsibilities as a worker. This publication explains what to expect once you're hired, and what happens if you're fired or you leave your job. It also includes guidance on how to deal with a problem at work. The information is current to March 2019. It is a free PDF from the People's Law School.
---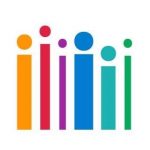 The People's Law School "Work" page – This page has the People's Law School's most up-to-date information regarding employment law in BC. It covers a lot of topics and explains many of the terms relating to being an employee.
The People's Law School is a non-profit society in British Columbia, dedicated to making the law accessible to everyone. They provide free education and information to help people effectively deal with the legal problems of daily life.
---
Applying for BC Employment and Assistance  – If you are in need and have no other resources, you may be eligible for income assistance. This can help support your transition to employment. Use My Self Serve to assess your eligibility and apply for assistance from the B.C. government. If you can't complete the application online, call 1-866-866-0800 or visit your local office.
Social Insurance Cards – To work in Canada and access various government services, you will need a social insurance number. Information regarding applying for a number is available here.
---