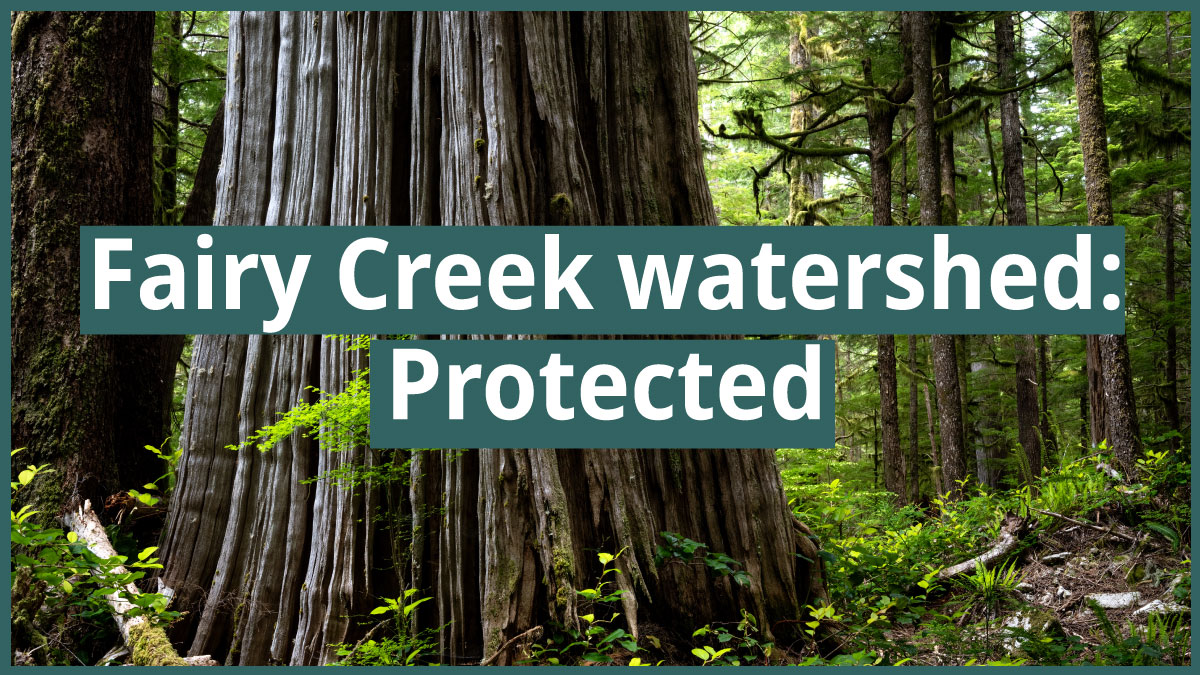 One of the reasons I love the North Shore is because of its access to nature. The trees and the mountains are always a source of awe to me. It is why I live here. It is why so many of us make the North Shore our home.
The environment is one of the biggest areas of concern for us in our community, and we know that this concern does not end at our boundaries, it encompasses all of the land. Hence, in North Vancouver-Seymour, I have heard from hundreds of you daily, regarding the old growth logging, and the events in Fairy Creek in particular. Our office received emails and phone calls and messages from people across our community and across the province voicing their concern.
Your voices were heard.
On Monday June 7th, the Pacheedaht, Huu-ay-aht, and Ditidaht First Nations issued the Hišuk ma c̕awak Declaration, taking back decision-making responsibilities over their traditional territories. At the same time, these three nations asked our government to defer old growth logging in the Fairy Creek Watershed and Central Walbran areas, which are located within their territory.
Our government honours and has approved the request to protect all of the old growth identified by the three First Nations, including the Fairy Creek Watershed.
The protection of Fairy Creek is an important step in protecting the old growth forests that we all love.
The over 2,000 hectares protected in Fairy Creek and Central Walbran adds to the nearly 200,000 hectares our government has already protected, including in Clayoquot Sound and the Skagit "Donut Hole" in Manning Park. In total, we have now issued deferrals in 11 rare old growth ecosystems left vulnerable by the previous government.
But let us be clear: while these are very important first steps, we know there is a lot more work to do. That's why our government will announce more old growth protections this summer, following ongoing consultations with Indigenous rights and title holders.
As with so many things in life, things are not as simple as they seem. Fairy Creek is part of the Pacheedaht First Nations, and our government had to respect and honour that it is their land to decide how to steward it.
Our government signed the United Nations Declaration on the Rights of Indigenous Peoples (UNDRIP), and it was a commitment, not a false promise. We respected the request from the Pacheedaht First Nations not to interfere as they developed a stewardship plan for their territories. The days of making land management decisions without consulting Indigenous rights and title holders is over. We only have to look at the past to see how colonization has not worked, and we must, going forward, respect the rights of the First Nations.
The outcome in Fairy Creek shows that when we put Indigenous peoples at the center of land management in their territories, we can protect old growth while advancing reconciliation.
Although some demonstrators have said they intend to continue protesting, it's important to recognize what the Pacheedaht, Huu-ay-aht, and Ditidaht said on June 7:
"Third parties – whether they are companies, organizations, other governments, or individuals – have no right to speak on behalf of the Nations. Moreover, for third parties to be welcome in their ḥahahuułi (traditional territories), they must respect their governance and stewardship, sacred principles, and right to economically benefit from the resources within the ḥahahuułi."
If we work together, by listening to and respecting the needs and rights of the First Nations, we can work to balance the interests of all of those impacted by the decisions.
Thank you for raising your voice on this issue. British Columbians have cared about these forests for a long time, and these last few weeks have shown that commitment is stronger than ever. These forests are part of what makes our province a great place to live. They are part of who we are as British Columbians.
Protecting Fairy Creek is an important step, but there's a lot more work to do. I'll keep you updated as we take additional action to protect old growth forests for future generations.
Click here to read the Hišuk ma c̕awak Declaration.
Click here to read more about our government's announcement.
As always, please do not hesitate to call or contact the office for any assistance you may need. My office can be reached at 604-983-9859, or by emailing us at susie.chant.mla@leg.bc.ca.
Thank you and stay safe,
Susie Chant, MLA
North Vancouver – Seymour